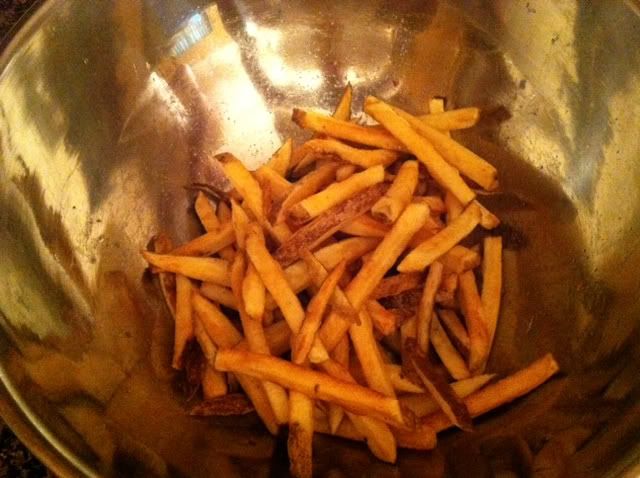 Perfect homemade fries begin with the potato. I prefer Golden potatoes but only had Russets when preparing this meal.
Second is the oil. For the absolute best fries
ever
use duck fat, but when that's not an option use peanut oil. Pre-heat to 340 . . . more on this later.
After slicing the potatoes, blanch in ice cold water for 10 minutes. After blanching, rinse the fries in a colander to rid the fries of excessive starch and dab with a towel to prevent unnecessary water from entering the vat.
The double dip – The key to perfect fries!
Now, drop the fries in the oil and don't exceed 340 degrees. Watch the fries and shake often to prevent them from sticking together. Just before the fries turn color, take them out of the vat and let them rest (for at least 5 minutes) while you turn up the heat to 360 degree. Then drop the fries back into the vat until they reach a nice golden color.
The first dip in the lower temperature cooks the fries without turning them brown. The double dip in the higher temperature is what will give the fries the perfect texture and allows for the golden color and crunch.